We know what you're thinking.. what is this?
 We created The Coolest Bridal Competition Ever!  Bridal Wars is a team competition, your bride squad vs their bride squad!  One bride to be and a group of her friends make up a team – your team can be as small as 4 and as large as you want! Bridesmaids, family, friends.. Mom's and your future MIL  are all welcome to be on your team!  Every person registers individually on our website. Teams compete against each other in our custom bridal wars challenges! It's the best time you'll have with your friends… we promise!
UPDATE on our live events
 All of our 2020 Live Events have been cancelled this year. We are currently planning our 2021 live events and can't wait to get back on the field with all of you! If you'd like to be the first to see our 2021 schedule and sign up, or want to tell us what city you are in so we can bring Bridal Wars to you- click here to give us your email address!!
How does it work?
 Check in opens at 11:30 am and competition begins at 1:00. Teams will compete in challenges against each other in our War Zone and After Party Areas.  Our War Zone will be filled will our active challenges! Then you will move into our After Party area where you can Lip Sync, play some games, get photos taken, grab some drinks and food and have a blast!  We end with a winners ceremony announcing all of our winning teams and handing out prizes!  What can you win?!  Every challenge has a prize to be won! Winning Brides will get bridal wars swag items!
who can compete?
Anyone can be on your team, but they need to be over the age of 16. Guys are welcome to be on your team, however there are a few of our more physical challenges they will not be allowed to compete in against girls.  
Some of our challenges are physical and others are just for the fun! But, if you see something you don't want to do, you can skip it! All challenges are optional.
what are girls saying about bridal wars?
" We had an absolute blast at Bridal Wars! We didn't know what to expect going into it, but came out having more fun than we ever expected! Not to mention going home with 4 wins was AWESOME! #webridindirty" – Carri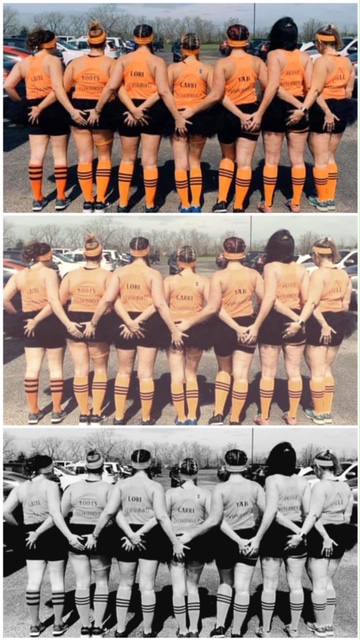 " I had such a blast with my team! We loved the pre-workout and the drinks! This is a MUST for all Brides. My friends are already talking about doing this for when they get married, I've started a tradition!" – Georgia
Frequently Asked Questions
Who can be on my team? Anyone you want!  Friends, Family, Mom, His Mom, Grandma, Cousins.. really anyone! We have seen it all!  Yes.. some seriously fierce Mom's and Grandmothers on teams! ( the Mom's are usually the craziest one's on the field!) Man of Honor? yup.. guys are welcome to join a team, although it's rare that they do, guys are welcome to compete with you. ( We just ask them to sit out some of the physical challenges so it's fair for the other teams competing such as last maid standing and tug of war)
How do we form our teams? How do my team members note whose team they are on? Everyone registers individually on each city website. There is (one) Bride allowed per team and each Bride registers as the BRIDE.  Team members all register under the team member option. When you get to the event, you all check in individually and form your teams then.
What can you Win? Every Competition at Bridal Wars will have a winner! Winners will get some Bridal Wars Swag
Is there an Age Requirement? Yes, all participants must be over 16 years of age. Friends and family are welcome to come watch and cheer you on, however everyone must be 16 or over to compete
What if one of my friends is pregnant? Congrats to her! But.. sorry she can not be on your team as a competitor. She is welcome to pay the $5 admission and come watch and cheer you on ( Don't worry, she can walk around the event with you!
How large can my team be?  As large as you want!!!  We do recommend you having 4 or more people on your team
What if my team member can no longer attend- can I give her spot to someone else? Yes you can! Please email us at stacy@bridalwarsevent.com. We will need to know the city you registered for, the name of the person who registered already and the new person who will be taking the place.
Cheering Section!? Friends and family are welcome to come watch and cheer you on! ($5 per person cash at check-in) We do ask that no children under the age of 16 attend. This is in an effort to keep everyone safe! We can't have kids near some of the physical challenges like Tug of War, we don't want anyone getting hurt!
Can I bring in Lawn Chairs?  Please do not bring in any outside seating, lawn chairs, etc. This is an active event and your spectators can walk around the event with you. We do not have an area that is assigned for lawn chair seating.
What Should You Wear?  We recommend sneakers and workout attire! Team Attire can be anything you want!
How Long does the event take?  Plan for 4 hours total ( one hour prior to the event start when check in opens and then 3 hours for the event)
What if it rains?  Our event is on Rain or Shine! We use a combination of indoor and outdoor space for our events and do not put anyone in danger
Please note all of our team registrations are final.
Vendor information
Bridal Wars is a great event for vendors to be a part of! If you'd like information on being a part of Bridal Wars, please email us at heather@bridalwarsevent.com 
Looking to reach us?
If you haven't found the answer to your question above, you can email us at info@bridalwarsevent.com